The Montessori Story
---
On January 6th, 1907 Maria Montessori opened the first Casa de Bambini—or "Children's Home" in the San Lorenzo slum of Rome. It was here she would teach the "peasant" children of poor families who had never before had the chance of formal schooling. Here she put into place her ideas for early childhood education based on the principles of her scientific research, close observation, and her profound respect for the life of the child.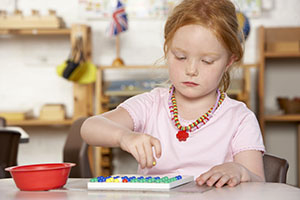 More than one hundred years later is a good time to reflect upon what she would see and think now. It is safe to say that she would still be of the belief that "anyone who wants to follow my method must understand that he should not honour me, but follow the child as his leader".
So much has changed in the world, and in the lives of children in particular, that it seems decidedly idealistic to imagine that our classrooms should not change with them. This leaves us in the position of hesitating to actually follow the child into the present because we would rather stick to the 'seemingly' rigid rules of what people 'believe' Montessori to be. Creating a "prepared environment" within the school that is conducive to peaceful, centred and attentive learning is an existing and central part of the Montessori methodology. Siolta Quality Assurance Principles set out standards which have refined these ideas by including aspects such as lighting, accessibility and aesthetics when designing environments. With areas such as home corners, construction areas and the like we have managed to create a home from home, including the different cultural aspects of each individual child to further the idea that the child's home is in our house.
Tina Bruce tells us that children use first hand experiences from life when playing and that play should be child led and include props, but is this not what Maria Montessori was saying all those years ago when using her practical life exercises, whereby the children were able to choose which real life materials they took from the shelf? Aistear Curriculum Framework tells us that learning should be a holistic process dealing with well-being, identity and belonging, communicating and exploring and thinking. Again Montessori was ahead of her time when using the five areas of Montessori (practical life, sensorial, language, mathematical and cultural exercises) as a method to speak to the inner and outer self of the child when addressing the quadrant of the child's experiences to include body, self, culture and society.
Montessori believed that the "Absorbent Mind" of a child is when a child uses his senses to create himself. He does this naturally, without thought or choice. Has this absorbent mind now become saturated? Children today comparing a portable Play Station to the Pink Tower might see it as a little one-dimensional. Compared to flashing screen images on Sky's Disney Channel "quiet time" might seem more boring than serene. If so where better to relax this saturated mind than in the Montessori classroom where they can become immersed in the exercises to give his mind a rest.
It is true to say that Montessori has evolved, and will continue to evolve, as long as we are prepared to keep updated with new theories that can be amalgamated to further forward this approach.